Blog by Tag: writing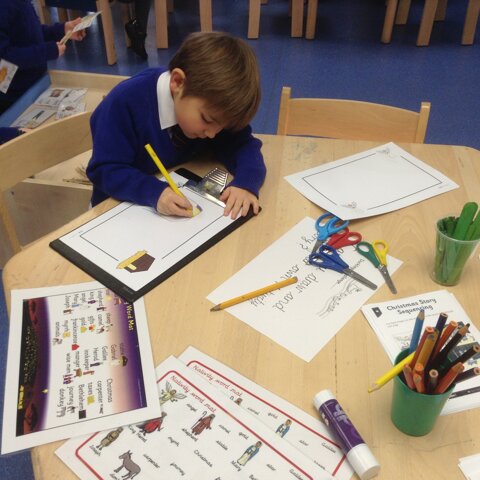 The Ducklings are enjoying drawing and writing all about the first Christmas.
Category: Ducklings
As a remote learning task and as part of our 'Robot's' topic, the children were asked to make a missing poster as a response to reading 'No-Bot...The Robot with no Bottom'.
Drey produced this fantastic poster and even included a question mark. AM-A-ZING!
Category: Ducklings
As part of a remote learning task in Phonics this week, the challenge was to write a sentence including one or two Phase 2 tricky words. Ayrton managed to write a sentence featuring FOUR tricky words. What super work!
Category: Ducklings
The Ducklings have enjoyed singing rhymes to help them write numbers. They then practised writing numbers on the Clevertouch board.
Category: Ducklings
We have been practising writing our names in lots of different ways.
Category: Ducklings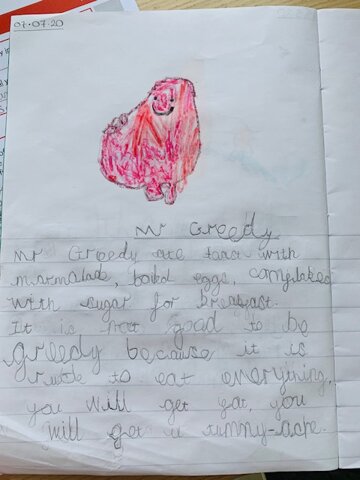 Ollie has enjoyed learning all about healthy eating and has done some beautiful writing after reading the Mr Greedy story. Look at his amazing cursive handwriting!
Category: Ducklings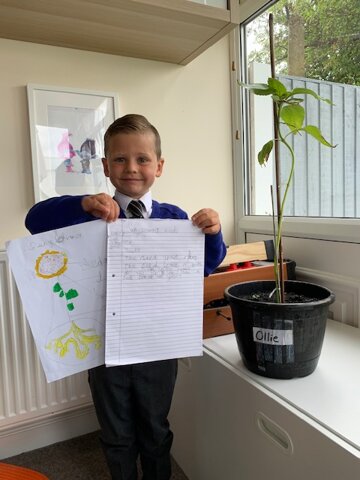 Look at Ollie's amazing home learning all about sunflowers! He looks very smart in his school uniform too, as he has been busy making his 'TopTips for Starting School' Video, to help our new Ducklings that will be starting next year.
Amazing work and we love your sunflower writing all about…
Category: Ducklings
writing reading Understanding the World homework PSED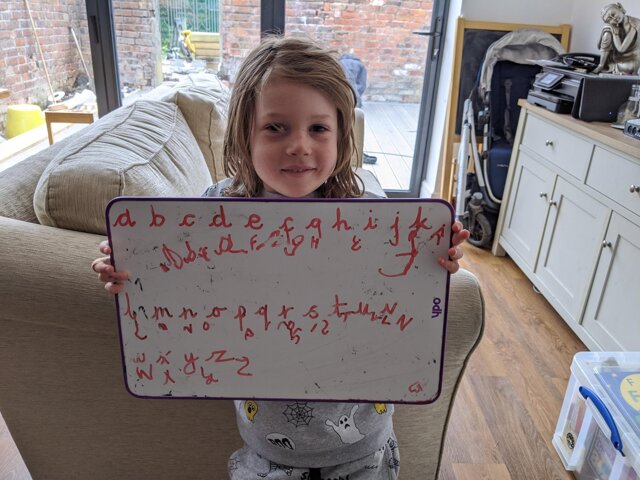 Here are lots more examples of lovely home learning from the Yellow Ducklings.
Kaiden has been busy making his own grass head, playing phonics and spelling games, writing, reading and practising counting and writing his numbers.
Darcie has been busy too, following the school work on the home…
Category: Ducklings
writing reading phonics ducklings Understanding the World homework Handwriting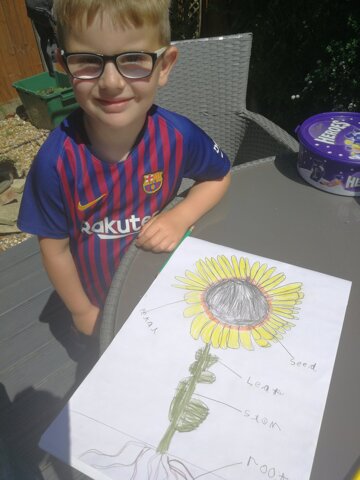 Here is some lovely home learning from Jack this week! Amazing work, well done! We can't wait to see how your sunflowers grow! We hope that you didn't get too wet when you fell in the stream!!
"We've enjoyed lots of lovely learning this week. We've learnt all about the sunflower, drawing a…
Category: Ducklings
writing reading ducklings Life cycles Understanding the World homework
The Ducklings are continuing to send in their lovely photographs of their home learning. There is fantastic writing,spelling and reading happening, as well as being very creative and active. It would be lovely to see some photos of your mathematics learning too! Keep up the great work!
Look at…
Category: Ducklings
writing reading ducklings Physical development Creative learning homework
The Ducklings have been keeping up their writing skills each week by writing their news, lists, instructions, menus, letters and cards! Amazing! Keep going!
Look at the gallery here...https://www.carletongreen.lancs.sch.uk/photo-galleries/ducklings-are-amazing-writers-at-home
Category: Ducklings
Well done to Abigail in Brown Ducklings, who has been writing sentences in her home-school writing book. What beautiful writing!
Category: Ducklings