Blog by Tag: PSED
As part of Children's Mental Health Awareness week, we have been talking about how we are feeling each day, what might be making us feel this way and what we can do to help us feel differently. We have also talked about the different things that make us feel happy.
Category: Ducklings
We have spent a little bit of time each day participating in different activities that help to create positive mental well-being. We have enjoyed listening to classical music, trying meditation and yoga, doing mindfulness colouring and moving to music. The children all said that they enjoyed doing…
Category: Ducklings
Today we started our Right Start Child Pedestrian Training or road safety.
We talked about the need to always hold a grown-up's hand when near a road and the children know that if they can't do that, that they can hold onto the handles of the pram or an arm if the grown up is carrying shopping…
Category: Ducklings
Physical development Road safety PSED
This week we have read the story The Rainbow Fish. Following on from this the Ducklings learned how to play a memory game called 'Fish.' They had to turn over two cards, one at a time to see if they could find a matching pair. They needed to watch the cards even when it wasn't their turn to see if…
Category: Ducklings
It was so lovely to see some of our Ducklings building mindfulness dens at home as part of our Children's Mental Health Week. Regardless of age, it is important to have a calm place to go, relax and think.
Category: Ducklings
Josh has enjoyed creating some art work to express how different parts of his body are feeling. In our live assembly time at the end of the day, the children shared and talked about their work together.
Category: Ducklings
class assembly PSED World Mental Health Awareness Day
The Ducklings have continued to have fun making new friends, sharing and playing nicely together in their first week at school. We are very proud of them all.
Look at the gallery here...
Category: Ducklings
The Ducklings have been learning how to put their puddlesuits and wellies on and finding out where they belong when we are not wearing them.
Category: Ducklings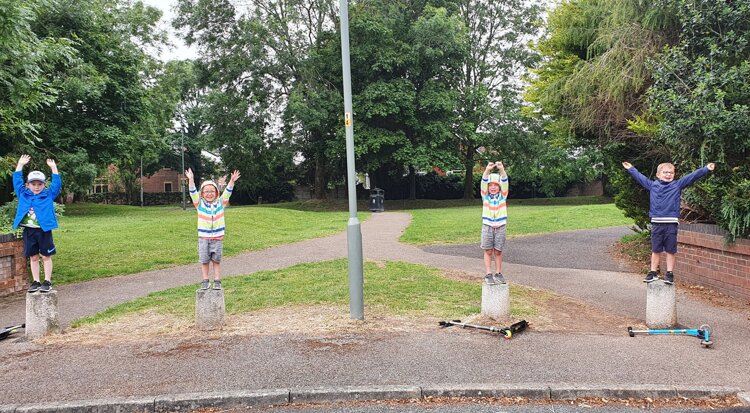 It was lovely to see this photograph of some of our ducklings showing how it's still great fun to be with your friends even when keeping a safe distance.
Hopefully see you all very soon!
Category: Ducklings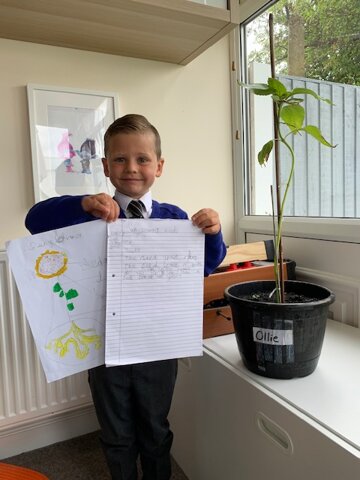 Look at Ollie's amazing home learning all about sunflowers! He looks very smart in his school uniform too, as he has been busy making his 'TopTips for Starting School' Video, to help our new Ducklings that will be starting next year.
Amazing work and we love your sunflower writing all about…
Category: Ducklings
writing reading Understanding the World homework PSED
It has been lovely to see some of the Ducklings playing outside with their brothers and sisters whilst the weather has been so nice.
Category: Ducklings
outdoor learning ducklings PSED
Our little Ducklings are all enjoying painting rainbows and displaying them in their windows in support of the NHS and other key workers. It is lovely to see and I'm sure it brings a smile to passers by on their way to work.
Remember to give a round of applause or even better bang pots and pans…
Category: Ducklings
ducklings Creative learning PSED