Blog by Tag: Road safety
We have been very busy this week with our road safety. First we have to talk about how to stay safe and then we go out to the roadside and practise what we have been learning about. The aspects that we have covered are holding hands, safe places to play, Stop, Look and Listen. We are now ready…
Category: Ducklings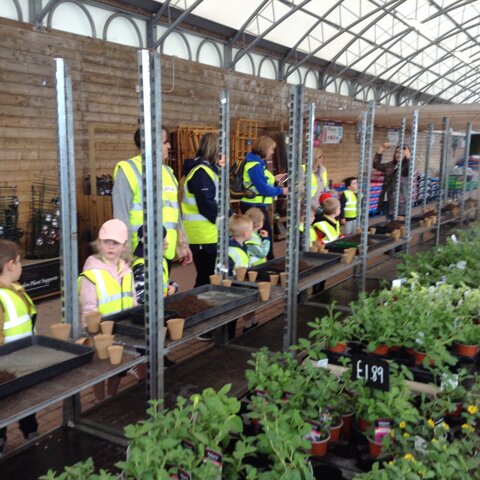 Little Chicks and Ducklings visited The Plant Place. They engaged in sowing seeds, Craig the gardener showed the Little Chicks the varied plants in the centre and taught their names and how they grew, particularly in different environments and temperatures.
Little Chicks then went around the…
Category: Little Chicks
Road safety Growing plants and seeds Active learning Quiz
The Ducklings have completed Stage 1 of the Right Start Pedestrian training. They had to put all of the skills that they have been learning into practise to cross the road safely with a grown-up. They were all amazing and have listened well over the last few weeks.
Category: Ducklings
Next on our road safety journey we practised stopping and then looking and listening to the direction in which traffic may be coming from.
Category: Ducklings
The Ducklings have been talking about how driveways are like little roads and how they can be dangerous as traffic can come in and out of them at anytime. During our Safer Pedestrian course, we practised - stopping, looking and listening before and during crossing a driveway with an adult.
Category: Ducklings
Today we started our Right Start Child Pedestrian Training or road safety.
We talked about the need to always hold a grown-up's hand when near a road and the children know that if they can't do that, that they can hold onto the handles of the pram or an arm if the grown up is carrying shopping…
Category: Ducklings
Physical development Road safety PSED
The children in Year 5 and 6 have entered a competition to design a poster to highlight the safety of drivers whilst the A585 roundabout is being renovated. The work is taking place to enable more traffic to travel through the roundabout in a safer manner. The children discussed with Highway…
Category: Falcons
Today we completed our road safety programme and learned to cross the road safely with a grown-up.
More photos......https://www.carletongreen.lancs.sch.uk/photo-galleries/road-safety-2
Category: Ducklings
outdoor learning Physical development Road safety
Today we have talked about the importance of using our ears to listen out for traffic as we can't always see it coming when there is a bend in the road or lots of parked cars. We closed our eyes and tried to listen to which direction the traffic was coming from.
Category: Ducklings
outdoor learning Physical development Road safety
The Ducklings are really sensible and are enjoying their road safety.
Lookat the gallery....https://www.carletongreen.lancs.sch.uk/photo-galleries/road-safety-1
Category: Ducklings