Blog by Tag: owls2018
The children in Owls' Class all worked so hard and thoroughly enjoyed making Christmas decorations for the Christmas Market.
Category: Owls
owls2018 Christmas Market 3D shapes
Today we performed poetry with a partner, we also put expression into our work and brilliant actions. We talked about different to ensure that our poetry was performed expressively. We looked at how different poems are set out and also some of the language features used. Today we noted in the…
Category: Owls
year3 year4 poetry outdoor learning English owls2018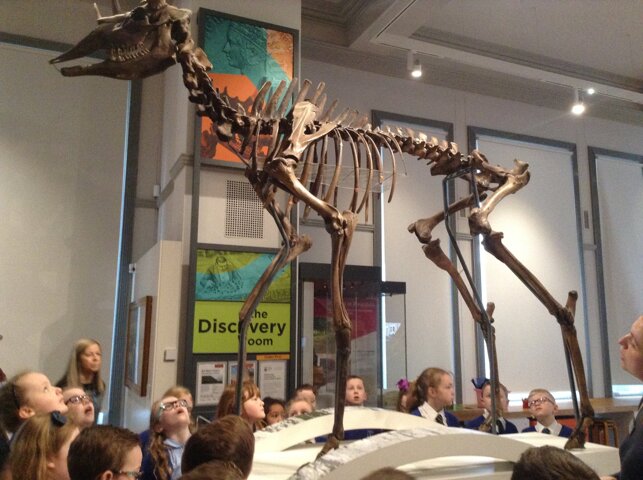 Our trip to the Harris Museum was a really enjoyable experience. We had the opportunity to do an archaeological dig for bones that belonged to the Poulton Elk and to identify the type of animal it was based on using the evidence provided. Then we went to look at the skeleton of the Elk and…
Category: Owls
As part of our topic and science week we investigated and disecting ancient poo. We then analysed the contents of the poo as to what period of time the poo came from. We had a fantastic time and discovered that our poo samples came from the Egyptian period based on the items found in the poo…
Category: Owls
year3 year4 science owls2018 scienceweek2018
This afternoon a mixture of Owls, Doves and Kestrels have been doing a range of experiments and investigations. We were using chromatography to split the colours in felt tips to see what colours had been mixed together to make that colour felt tip. We also looked at how the coloured sugar…
Category: Owls
year3 year4 science owls2018 scienceweek2018
In Owls we have been studying all about earthquakes. We have learnt that there are 2 scales used for measuring the intensity of earthquakes. The first is called the Richter scale which is recorded on a seismograph and the second is called the Mercalli scale.
We had a go at creating a…
Category: Owls
year3 topic year4 DT geography owls2018 earthquakes
Part of Owls homework this week was to go on an outdoor walk and observe the things that you see at this time of the year. Below is a selection of the photos that children sent into school.
What did you notice about the outdoors at this time of year? Is this season your favourite? Why/why…
Category: Owls
year3 year4 outdoor learning owls2018
Well done to all of the children for their participation in our class assembly on Advent.
What did you learn about advent from our class assembly?
Category: Owls
year3 year4 Christmas advent RE owls2018
Last week we had the fantastic experience of having local author Dan Worsley join us in our class. He taught us how he plans, edits and writes his stories and how he magpies ideas from his other writings.
Dan gave us the challenge of changing the end of one of his short stories Blown Away.…
Category: Owls
year3 year4 writing owls2018 LKS2 danworsley
This morning we walked to Poulton and on our route we looked out for different human and physical features. We produced a map of Poulton town centre identifying the different shops and land use in the town centre. Also, we went into St Chad's church yard and sketched the church building using…
Category: Owls
year3 topic year4 trip geography owls2018 poulton
It was great to have Dan Worsley in school today. We were able to interview him so that we can write his biography. Hopefully we'll be able to share our biographies when we've finished writing them. We asked him a lot of questions and found out some funny moments from his childhood.
What…
Category: Owls
year3 topic year4 writing English owls2018
Yesterday we went for our first swimming session. We had a great time and some of the children who were a little bit frightened off the water enjoyed themselves once they got in!
We look forward to the rest of our swimming sessions this term.
Category: Owls
year3 year4 healthyliving owls2018 pe swimming