Blog by Tag: class assembly
Josh has enjoyed creating some art work to express how different parts of his body are feeling. In our live assembly time at the end of the day, the children shared and talked about their work together.
Category: Ducklings
class assembly PSED World Mental Health Awareness Day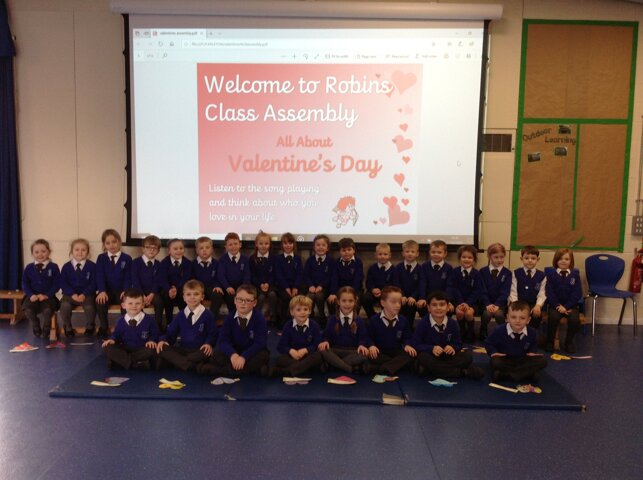 I am so so proud of you all for yesterday, you all did FANTASTIC!
You read your lines brilliantly and sung the song beautifully.
I could see that you all really enjoyed yourselves and you put a lot of practise and work into it!
Well done Robins!
Miss Gregson
Category: Robins
A huge THANK YOU to the children and their families for putting so much effort into yesterday's assembly. Thank you all for your continued support.
Category: Owls
On Tuesday Hawks performed their Harvest-We can help others assembly, to the whole school and parents.
What did you enjoy most about our assembly?
Category: Hawks
hawks pshe class assembly year5 year6 harvest
The Yellow Ducklings were amazing on stage for their class assembly today! They were all so confident and clear with their speaking and enjoyed performing to you all on the stage. We are so very proud of them all! Well done!
Look at the gallery here....…
Category: Ducklings
Speaking and Listening class assembly
I would just like to say how very proud I am of all of the children in Owls. They rehearsed their class assembly brilliantly and I thought they were amazing on the day. Thank you very much to all those parents and other family members who came along and showed their support. I know how difficult…
Category: Owls
Thank you to all of you that attended our class assembly. We hope you enjoyed it
Category: Falcons
Last Tuesday, Hawks performed their class assembly to the whole school and to their parents and carers. They show cased what they have been learning in Hawks which included their science topic survival, art and PE.
What did you enjoy the most? What did you parent/carer think of the…
Category: Hawks
hawks newclass class assembly year5 year6
Quick reminder that our Class Assembly is tomorrow beginning at 3pm.
Category: Falcons
On Tuesday 6th February, Herons performed their Robot assembly to the whole school and parents. They performed with lots of confidence and enthusisasm.
What was your favourite part of the assembly? What was your role in the assembly?
Category: Herons
Year 2 herons year 1 robots class assembly