Ducklings
We are the Ducklings!
Mrs Catterall teaches the Yellow Ducklings and Miss Lees teaches the Brown Ducklings.
Mrs Stock teaches in both classes when the teachers have their time out of class for planning, preparation and assessment.
Miss Watmough, Mrs Richardson, Mrs Strickland, Miss Taylor and Miss Wilson are our lovely Learning Support Assistants.
Our mini topics for the Autumn Term will be Settling in, Amazing Me, Autumn, People Who Help Us, Christmas and other Celebrations, as well as other class child-led interests.
Our P.E day will be Friday each week. P.E bags will be kept in school and the children will learn how to get dressed and undressed as part of their Physical Development.
Look here at our class BLOG to see what we get up to each week in class.
Look below for important and useful information which will be added to throughout the year.
When the Ducklings are ready for it, we will also put information about homework on the Home Learning area of the school website and let you know your password.
Latest EYFS Newsletter
EYFS Newsletters
Home Learning
Here are some ideas to help support your child's learning in school, for you to try at home, over the next few weeks.
Ducklings
Keep practising getting dressed and undressed – doing up and undoing buttons, zips and the hook and eye catches on trousers, even ties if you are up for a challenge.
We will be sending home a laminated name card, for your child to keep at home and to practice tracing over their name. Use a wipeable pen, so that they can practice this over and over.
Talk for Mathematics
Look for 2D and 3D shapes around your home and when out and about.
How many different shapes can you name?
Show your families at home how you can sort a collection of different objects according to colour, shape, size, pattern and so on. You can sort toys, socks, natural objects and so on.
Talk for Reading and Writing
When you are sharing a story together find the title and author and show the children where you are starting to read on the page. Talk about the pictures together.
Can you read a non-fiction book together too?
Learn the names of the characters from Oxford Reading Tree – Kipper, Biff, Chip, Mum, Dad and Floppy. We will send some pictures home for you.
Find objects when you are at home and out and about that start with the sounds s, a, t, p, i or n.
Practise forming the letters on the handwriting sheets as they are sent home.
Play I spy.
Have a go at being segmenting words orally and talking like a robot! Sound talk a word, for e.g. get your b-a-g, nod your h-ea-d! Can they understand the word?
Play – 'Whose name begins with a 'm?' What does daddy begin with?
Talk for topic
Talk about the 5 senses and which parts of your body are responsible for each one.
Talk about your favourite things that you like to hear, smell or taste.
Taste and try a new food. Can you describe what it tastes like?
Find some different smells around the home and when out and about – wet grass in the garden, a cake baking, daddy's aftershave.
Meet the Teacher Information
Current School Lunches Menu
School Meals Menu
Editable WOW moment slips for parents and carers
These slips are for you to complete and send in or email to your child's class teacher when your child makes a special achievement at home. Thank you.
Parent/Carer WOW moment slips
WOW Moments
Reception Baseline Assessment Information for Parents
RBA
A Parents/Carers guide to the Early Years Foundation Stage Framework
This is a guide for how we teach and learn in the early years, written especially for parents and carers.
7 June 2022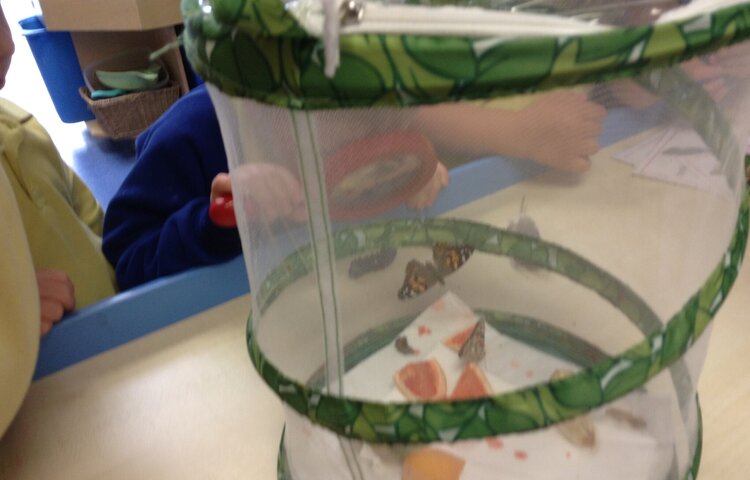 8 May 2022